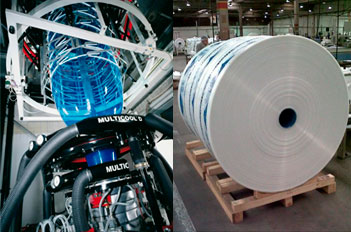 Industrial PE
The industrial packaging line in polyethylene is represented by open mouth or valve sacks and industrial type FFS (form-fill-seal) coils.

They are basically manufactured with low density linear polyethylene, and also with low density polyethylene. They are specific for uses where great mechanical resistance is required. Film is extruded in state-of-the-art co-extruder, printed in flexography and receives adequate finishing for the different versions.
The FFS coils, whether open or tubular, receive finishing such as embossing, wrapping, production of deaeration channels and even microperforation, when required.According to client requirement, bags can receive special treatment, so they can be open mouth, open mouth with lateral fold, folded at the bottom, perforated, etc. In the valve style, "Even Bag" is featured as a great mechanical resistance valve bag, due to its special resins and multilayer extrusion, made automatically in finishing machines. It´s commonly used for the fertilizer and mining markets.Generally, the chemical, petrochemical, fertilizer, food and input for the food industry, mining and construction are the main markets that use these products.