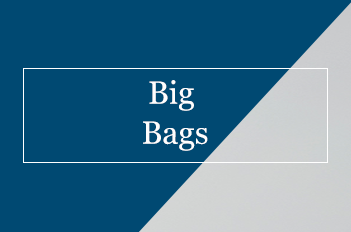 Big Bags
Big Bags are flexible containers used for the unitization of medium volumes that often vary between 500 and 2,000 kg.
Made with Polypropylene raffia threads of high strength, it can have 1 or 4 handles, being disposable or reusable.
It is used for transportation and/or storage with stacking of any type of product usually granulated or powdered. They are economical and easy to handle by hoists, forklifts and overhead cranes.
Sometimes, they can be lined with an inner polyethylene bag, which allows better impermeability.
They are diversely used for packing fertilizers, animal feed, salt, chemicals, plastic resins, seeds, food, cement, ores, and many other products.
Made to measure, especially to meet the needs of each customer, big bags are available in different sizes and specifications, always in accordance with international safety standards. The production of the Big Bags in Zaraplast counts on specific and dedicated manufacturing units.